0020Marker Pen Cap with Eyelet for Attaching Strings
2019-11-17
What's the best way of attaching a string to a marker pen? Using a 3D printed cap with an eyelet!
In our office we wanted to have a glass board with some marker pens dangling from it, attached via strings. We could have simply used some gaffer tape to fix the strings to the pens, but why not custom design and 3d print a cap with an eyelet instead?
I quickly came up with a design in Autodesk Fusion 360: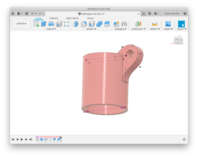 The cap is designed with an inner diameter of 15mm which is slightly smaller than the outer diameter of our marker pens (15.2mm). I later designed an additional second version for use with smaller pens, this one has 10.6mm inner diameter.
The 3d model was then printed using flexible Filament (TPA), standing upright with support structures. Here's the result in all its glory:
The flexible cap is a nice tight fit (you have to pull rather strongly to remove the cap from the pen). The 3mm eyelet allows for packthread or similar to be attached.
Downloads
If you want to print your own, go to Thingiverse for the STL files:
If you want to change or improve the design, download the original design files for Fusion 360:
---
Updates to this post
2019-12-05: Added small version of the cap.
---