0025Lego Police Car
2020-02-23
I built a police car in Lego, without any particular original in mind. It turned out kind of a modern-retro-hybrid design.
I started with the front part and experimented with different kind of windshields. And I challenged myself not to use any of the specialised mudguard tiles. That worked out well for the back wheels and … okayish at the front-end.
At this stage I re-built the current design in Lego Studio. I find that some ideas are easier to explore virtually, for example when experimenting with different colours (also, I often to not have a part in a specific colour, so I couldn't try it in real anyway).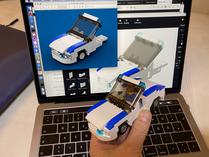 After some more experiments I arrived at the (currently) final version. I do like it, but I'm not 100% happy with the rear end. Maybe I'll give it a makeover sometime.
---